Kokopelli's Trail Info
Length: 142 miles
Mark at Castle Rock in Rabbit Valley
Kokopelli's Trail connects the mountain biking giants of Fruita and Moab, making it probably the most famous multi-day trail. The trail connects singletrack, sandy roads, dirt roads, occasional mud roads, and even some pavement, sometimes giving the trail a bad name. Singletrack is a minor part of the trail, and the scenery isn't as nice as the White Rim, but it's variety and fame make it worth doing. It has great access for support vehicles, and is typically done in 3-5 days, although there are some sick athletes out there that have done it in less than a day!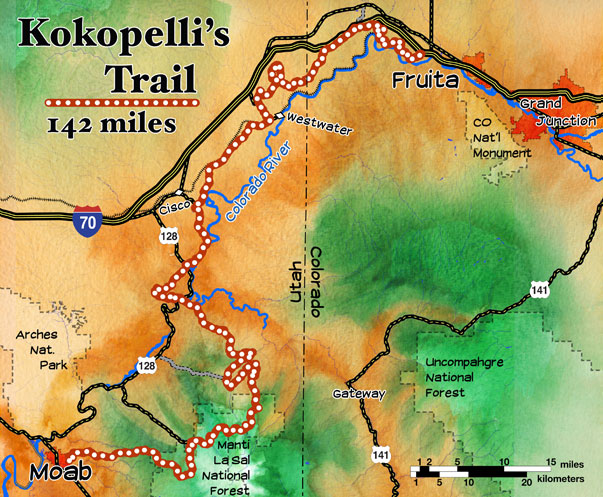 The Kokopelli is a classic ride that everybody should put on their 'to do' list. Each of the trails ends are in some of the best known mountain biking areas anywhere. The Colorado end is the fantastic Fruita Loops area, and the famous Slickrock trail is at the Utah end. Most people do it in five days. Six will make it a more casual ride, four is good for small groups that are in shape. You'll hardly believe it, but there are some monsters that have done the trail in one day.
The trail was put together by the COPMOBA (Colorado Plateu Mountain Bike Trail Association) in 1989. They are a great cause to support, and have built several other trails. COPMPOBA does an annual, fully-supported tour in May called the Tour de Bloom
There is a wide variety of terrain and difficulties. The first part is technical and difficult, the next parts are non-technical, but scenic and fun jeep roads. The trail climbs to 8500 feet twice, then passes Porcupine Rim and drops into Moab's Slickrock. An option for stronger riders is to take the 'Lazy Man's Porcupine Rim' turnoff (not marked) and finishing your adventure by coming down the Porcupine Rim trail.
The Kokopelli includes everything from pavement to tough singletrack. There are a lot of sandy miles, but they can be fun in their own way. It can be done in four days, but with beginners along it took us six. People have done it in under 20 hours though! A cool way to do the Kokopelli for someone who doesn't get much time off and lives in Colorado or Utah is to do it in two weekends with another group that wants to do it. You each take each half in opposite directions, getting to each others cars at your end points, then come back next weekend and do the other half! (Although one group has to be willing to do the second half first.)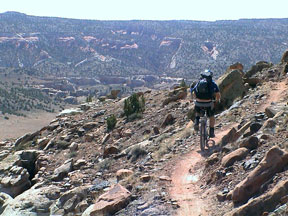 Mark on Mary's Loop
For anyone that wants to rent a bike, Over the Edge bicycles in Fruita (less than ten miles from the Loma trailhead) that rents good bikes. It's a great shop, and very helpful, but the rentals are pretty expensive.
amazingoutdoors.com has two redundant pages on Kokopelli's trail. One is written more like an article (read it to find out about the trail), the other has a

detailed trail description (use it once your ready to ride or plan the trail). Both are written well and with a lot of detail. The maps, on the other hand, look like they are made for toddlers and should be printed on spill proof paper. Read these articles, but get your maps elsewhere.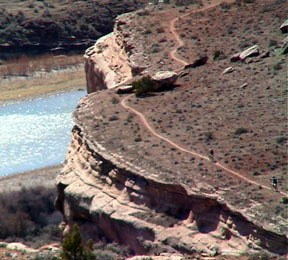 View of Steve's Loop and the Colorado river
from Mary's Loop
---
Read this magazine style short article about the trail by cyberwest.com to wet your whistle.
Here are two companies that do guided tours of Kokopelli's Trail:
If you're German, I can run a German language tour, or sometimes www.bikealpin.de has trips out here.
Here's a good overview map of the trail. If you want to see what commercialism does to this shit, read the MountainZone.com trail description. The pictures are great, but the text is made-for-TV crap. Don't believe the hype.
The hike-a-bike section west of Salt Creek
Moab restaurant list and town info
two different map holders: www.cycoactive.com
---
Kokopelli 2000 Trip Proposal
Rolla Area Touring Society, was based in Rolla, Missouri
The following trip proposal was put together in April 2000 by the Rolla Area Touring Society (a bicycle club based in Rolla, Missouri) to solicit interest in a trip to Kokopelli's Trail. They (three riders and two support vehicle drivers) ultimately took the trip during the first week of October.
They eventually removed this page, but i am keeping the info here to serve as a resource for others who may be interested in planning their own trip to Kokopelli's Trail. Bear in mind that all prices and details on this page from this point forward are from 2000.
We had a wonderful time. The weather and scenery were magnificent. Kokopelli's trail is highly recommended!
Recently, the president of the Rolla Area Touring Society requested that members suggest organized rides for the upcoming bicycle season. In response to that request, I started gathering the information that I have casually collected over the past several years on Kokopelli's Trail: a guide book, a trail map, and a Bureau of Land Management brochure.
I mentioned the trip to a few friends and received some very positive responses. Consequently, I am further investigating the feasibility of organizing a trip to Kokopelli's Trail, a bicycle trail trail that runs from Loma (near Grand Junction), Colorado to Moab, Utah. The trail is approximately 145 miles in length and traverses a very remote and scenic area of the Colorado Plateau.
A trip from Rolla to Kokopelli's Trail will take up to ten days and, depending upon the number of participants, would cost from $300 to $400 per person.
Kokopelli's Trail is comprised of back country roads, off road vehicle (ORV) trails, and some singletrack. According to the available guides and maps, there are no towns or services (including water) on the trail.
The preliminary plan is to rent a large passenger van to drive to Loma and serve as a support vehicle. There are several primitive campgrounds along the trail that are accessible to a two wheel drive vehicle. The van will meet the cyclists every afternoon at a predetermined campground with food, water, fresh clothes, lawn chairs, fresh produce, and firewood.
I have not been on Kokopelli's Trail but I have traveled through the area several times, most recently in the summer of 1998 while doing some field work for the USGS. The area is one of the most spectacular in the U.S. Several national parks and national monuments are in the area including: Colorado National Monument, Canyonlands National Park, and Arches National Park.
The trail itself crosses the Colorado River, goes in and out of several valleys, and finally ends in the slickrock area of Moab, UT. The trail is rated from easy to very difficult. By planning to traverse the trail in five days, we can expect to average thirty miles per day - leaving plenty of time to explore side trails and enjoy a relaxed pace.
SUMMARY
Tentative Date - September 29 - October 9 (plus or minus a day or so)
Time on trail - 5 to 7 days
Itinerary:
Leave Rolla and drive to Grand Junction, CO motel (1070 miles)
Drive from Grand Junction motel to Kokopelli's Trail trailhead in Loma (14 miles)
Bicyclists travel Kokopelli's Trail (150 miles,5 days)
Bicyclists arrive in Moab, UT - stay at Moab motel
Leave Moab, UT and drive to motel in Hays, KS (675 miles)
Leave Hays, KS and drive to Rolla (490 miles)
Support Vehicle
If a full time driver cannot be found, the trip participants will have to trade duties with the support vehicle - flip coins, draw straws, rock, paper, scissors, etc.
All expenses for a full time driver of the support vehicle, other than food, will be covered by the other trip participants. Thus, it will be a free trip through one of the most scenic areas in the world for a full time driver of the support vehicle.
---
THE TRAIL
A trip on Kokopelli's Trail is a serious undertaking. From the guide book "Kokopelli's Trail" by Peggy Utesch I have taken the following passages:
Segment 1, mile 11.7 - The route climbs a steep embankment then continues ascending in the form of a deeply rutted ORV trail as it travels toward Porcupine Rim.
Segment 2, mile 16-20 - The first 1.5 miles are challenging, combining water ruts with large rocks, steps, loose rock, and sand.
Segment 3, mile 3.0 - The trail is very steep, even for a motorized vehicle, with large loose rocks that also make hiking difficult. Fortunately this hill is only 0.2 miles long.
Segment 3, mile 14.8 - Begin a very steep, rocky and technical descent along the side of the canyon. Most riders should walk here as a fall would be disastrous.
Segment 4, mile 0 - The portion of the segment directly north of Dewey Bridge consists of 4.5 miles of very deep sand, so that a rider can barely travel downhill on a 30 degree slope - most cyclists walk their bicycles through this area. Profuse cattle droppings in this area have also helped make travel along this stretch of trail unpleasant.
Segment 6, mile 11.0 - Singletrack begins again and climbs through the steep, maroon shale slopes of the Morrison formation, high above the Colorado River. This stretch is rated difficult with a good deal of exposure.
BUT...having said all that, the guide book also states:
Section 1, mile 8.9 - A spectacular formation of sandstone spires comes into view ahead of the climb out of Rill Canyon. An arch will also soon become visible in the end of an eroded slickrock dome.
Section 2, mile 22.6 - The beautiful panorama of upper Fisher Valley is visible from the top of the hill. Coyote and puma tracks are not uncommon, although seeing one of these largely-nocturnal animals is rare. The coyote talks at night, however, so be listening for his conversation while sitting around the campfire or dreaming through the desert night.
Section 3, mile 6.0 - Stop to eat and drink here while enjoying the spectacular view that includes the Entrada slickrock of the Dolores River Canyon.
Segment 4, mile 0.0 - Unfortunately, this miserable stretch passes some of the most beautiful Entrada sandstone bluffs in Utah! There are also several arches in the area. See Segment 4, mile 0.0 above.
Segment 5 - The route travels across grassy plateaus above the Colorado River, past two beautiful sandstone monoliths called Castle Rocks, then travels along McDonald Creek into Rabbit Valley.
Segment 6, mile 14.4 - Horsethief Canyon and the Colorado River are visible below.
So there it is: some good, some bad, and other than the cow poop, no ugly. A description of a multi day trail that can be difficult, a little dangerous, but very beautiful and rewarding.
The guidebook rates the trail as: Easy - 25.4%, Moderate - 50.7%, Difficult - 20.5%, Awful (4.5 miles of deep sand, which may be by-passed) - 3.4%. These percentages were based o the old 134 mile route. The route now is closer to 150 miles. In 1990, due to the concern of a railroad company that has an active track adjacent to the trail, the route was realigned to avoid potential liability for both the railroad company and the Bureau of Land Management.
The weather in the Grand Junction-Moab is best during the spring and fall. Summer temperatures regularly exceed 100 with little or no shade. In conversations with potential participants, we have decided that early fall would be the best time of the year to go on Kokopelli's Trail. I am tentatively scheduling the trip for late September- early October. Personally, my only restriction is that I an not willing to miss my daughter's thirteenth birthday on October 12 - she'll become a teenager only once.
---
WEATHER & CLIMATE
Back to the weather and time of year. According to the climatic data that I have been able to gather, the weather that we could expect to greet us would be very mild:
| | | | |
| --- | --- | --- | --- |
| LOCATION | MINTEMP | MAX TEMP | PRECIPITATION |
| Grand Junction (5 year average) | 44.2 | 78.4 | 0.0 |
| Moab (2 year average) | 41.5 | 79 | 0.0 |
| Arches National Park (15 year avg.) | 42 | 73 | 1.15 |
Another benefit to scheduling the trip in the fall is that snowpack, flash floods, and creek crossings will be of little concern.
---
APPROXIMATE EXPENSES
| | | |
| --- | --- | --- |
| Rental Van (one week)** | 475 | Cost of van |
| Rental Van (daily rate)** | 30 | Daily rate beyond one week |
| Days beyond one week | 3 | Number of days van needed beyond one week |
| COST OF ADDITIONAL DAYS | 90 | Cost of van beyond one week |
| Free Van Mileage | 1100 | |
| Van Mileage Rate | 0.2 | Twenty cents per mile beyond 1100 miles |
| COST OF ADDITIONAL MILEAGE | 380 | Cost of van beyond 1100 miles |
| COST OF VAN (ten days) | 565 | Cost of van and excess mileage charge |
Approximate Cost*
| | | |
| --- | --- | --- |
| Total Mileage** | 3000 | Total mileage on van |
| Gas Mileage** | 15 | Miles per gallon for van |
| Cost of Gas** | 1.35 | Cost of gas |
| TOTAL COST OF GAS | 270 | Total cost of gas |
| | |
| --- | --- |
| Motel in Grand Junction** | 50 |
| Motel in Central Kansas** | 50 |
| Motel in Central Kansas** | 50 |
| TOTAL MOTEL COSTS | 150 |
| | |
COST PER PERSON (including motel cost for wheel
man)

| | |
| --- | --- |
| SIX | 377 |
| EIGHT | 320 |
| TEN | 286 |
| TWELVE | 263 |
* These are tentative figures based upon a couple of telephone calls and assumptions regarding : gas mileage, cost of gasoline, cost of motels, time on the trail, etc.
**Over the next few months I will obtain more detailed cost figures. If you disagree with these assumptions, please let me know.
Also not included in the above cost estimate: tax on van, motel tax, and cost of maps and books for planning purposes. Remember, food is not part of the estimate.
Cost Comparison
Looking over the results of a search on the web, I have found that commercial outfitters charge from $575 to $1000 for a five day Kokopelli's Trail trip. Of course, this usually includes food and a guide, but you also have to pay to get yourself to Grand Junction first.....I wonder what the $1000 trip is like?
---
Kokopelli's Trail Campsites
This is a summary of the information received from bicycle shops and government land management agencies in Grand Junction and Moab. The names of the camp sites are listed, along with the number of "yes" and"no" responses to the accessibility question. In the final column an asterisk is given for each time a information source designated the site as "notable". The comments on the camp sites are followed by a abbreviation designation the source of the comment, see the listing of information sources appearing after the camp site matrix.
Name of camp site
Accessible with 2WD full size passenger van?
Notable Campsites

Rabbit Valley

Right on the Interstate (TCS)

Y, 8
**

Castle Rock

High clearance vehicle (BP)

Rough road in, but very doable if you take it slow (FS)

Y, 7

Knowles Canyon

High clearance vehicle (BP)

Possible on certain days, would not recommend it (FS)

Sandy? (TCS)

Y, 5 ; N, 1
*

Bitter Creek Overlook

High clearance vehicle (BP)

Close to Interstate but hard to find (FS)

Y, 5
*

Westwater Ranger Station

Paved all the way (FS)

T, 5

Fish Ford

T, 7
*

McGraw Bottom

No camp (DOI)

Not a camp (FS)

Y, 1 ; N, 2

Dewey Bridge

Right on the Moab route (TCS)

Y, 8
**

Cowskin

A little rough toward the end (FS)

Less crowded than Dewey Bridge (BS)

Y, 7
*

Onion Creek Road

This camp site was added by TCS

Y, 1

Hideout Canyon

Absolutely not! (FS)

High clearance 4x4 (SP)

? (TCS)

N, 4

Bull Draw

Y, 7
*

Rock Castle

Y, 7

Cold Springs

Y, 7

Maloy Park

Not sure where this is (FS)

? (TCS)

Y, 3

Porcupine Rim

Access from Moab - up Sand Flats Road (BO)

A little rough and brushy getting down to the camp area (FS)

Right on the slickrock road (TCS)

Best from Moab (BS)

Y, 8
*
---
Other Comments on the Trail and Campsites
Bicycle Outfitters (BO)

251 Colorado Avenue

Grand Junction, CO 81501

Dwayne Weddle



970-245-2699
My experience is limited, but I hope this is at least somewhat helpful. I am not sure what facilities are available at Westwater except water. Rabbit Valley has restrooms but no running water. There is excellent camping at Dewey Bridge. A natural spring empties into a horse trough at the Porcupine Rim trailhead. Supported trips are very successful on the Kokopelli. You'll have a great time.
US Department of Interior (DOI)

82 Dogwood Avenue

Moab, UT 84532

Alen Van Hement



935-259-2116
Some of the camps are accessible but not by driving along the trail - need detour.
US Forest Service (FS)

222 S 6th Street #416

Grand Junction, CO 81501

Joe Asher, Russ Von Koch



970-244-3031

(GJ), 435-259-6111 (M)
Sports Ports (SP)

657 North Avenue

Grand Junction, CO 81501

Ryan Cranston



970-245-7127
Jim at Board & Buckle Cyclery would be a great contact as he leads trips on the trail. His number is 970-245-9052. Try to call before March 6th.
Board & Buckle Ski & Cyclery (BB)

2822 North Avenue

Grand Junction, CO 81501

Jim Scangarella



970-245-9052
You may want to call - there are some things you may need to know - and I don't have room enough to list them all. Date of trip, number of guests, number of days on trail - important to know to help you. Try calling me in the evening around 8:30 PM. Jim
Bike Peddler (BP)

710 N 1st Street

Grand Junction, CO 81501

Curt Lane



970-243-5602
Tompkins Cycle Sport (TCS)

301 Main Street

Grand Junction, CO 81501

Gary Tompkins



970-241-0141
Stop in to check local conditions depending on weather.
Bike Shop (BS)

964 North Avenue

Grand Junction, CO 81501

Bryan Miick



970-243-0807