2010 North American Handmade Bicycle Show - Richmond VA
Mar 2010
I had a great time at the Portland handmade bike show and was excited to hit the Richmond show after missing Indianapolis last year. Here are some things that stood out to me:
This beautiful Bilenky frame with custom lugs was left unpainted to show off the brazing and lug work. To me, this is the essence of what custom bike shows are about, and just some lovely work. I like how the color of the brass accents the edges of the lugs.
(photos by Ward Morrison)
I've never seen compound curved wooden fenders before this show, and the pretty fenders on this fun-painted Groovy weren't the only ones at the show.
(photos by Ward Morrison)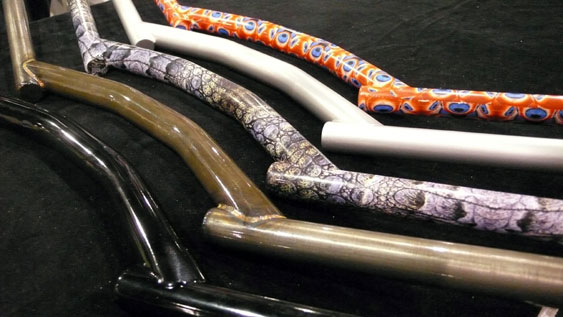 Groovy also makes the Luv Handles alt bar with a really comfortable backsweep. These are great for mountain biking, and can would work great on townies, fixies, and more.
(photo by Ward Morrison)
FSA's metropolis bar is beautiful enough to have found its way onto several of the show bikes, including this classic from Shamrock with bamboo grips. I've picked up a couple for two different town bikes and love them!
(photo by Rad Anzulovic)
Banjo Bicycles had a great and unique display with some wonderful craftsmanship. They really looked like they enjoyed their work and were rightfully proud of it. How can you not cry looking at the craftsman caressing his first attempt at a wooden rim?
(photos by Ward Morrison)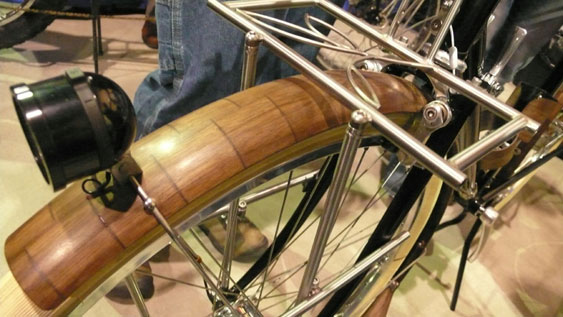 This bike from Banjo was another example of compound curved wooden fenders. The racks were really pretty and used a structural branch and leaf pattern. The water bottle cages were carbon fiber wrapped with a veneer of the same wood used in the fenders.
(photos by Ward Morrison)
Who wouldn't lust after this do-it-all (just not too fast) fat-assed long bike with a fork mount on the back bumper for hauling your race rig? Beautifully executed with one hell of a front rack too!
(photos by Ward Morrison)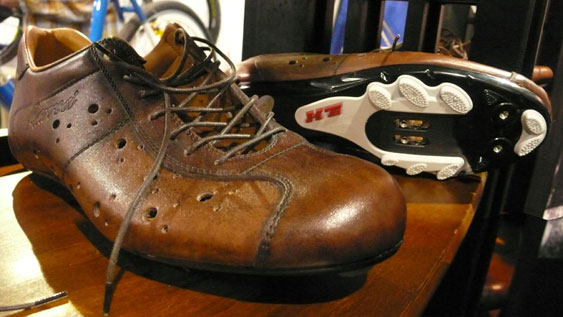 I'm kicking myself for not having tried on and purchased a pair of these beautiful dromarti shoes. I forgot the price on them, but it was cheaper than a pair of sidis.
(photos by Ward Morrison)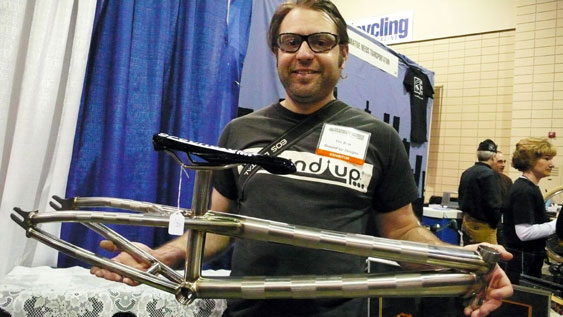 This GroundUp BMX was just hardcore. Seat rails welded to the seat tube and no seatpost. I'd feel unworthy to be seen on this unless I knew i could kick some serious ass.
(photos by Ward Morrison)
Eric from GroundUp brought this bike that has a tiki torch at the back tip of the rear fender, and a gas tank and nozzle that extends out the back, shooting gas over the torch to make a flamethrower that is still UCI legal, but they are working on adding a no-flamethrower rule for 2011.
(photos by Ward Morrison)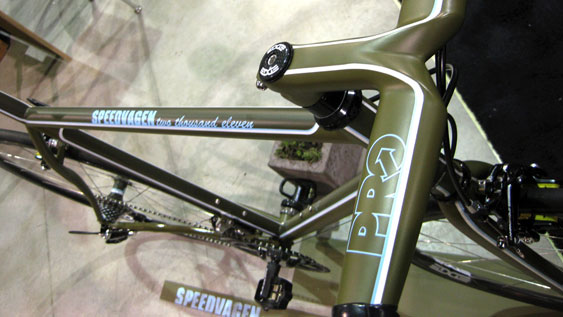 This super hot road bike from Speedvagen pushes the question of how sexy olive drab can be to a whole new level.
(photos by Rad Anzulovic)
(photos by Ward Morrison)
Vanilla brought this wonderful bike with a custom front rack by Trucker, both from Portland. The holes in the front and rear receive a bag that uses them for a firm attachment to the rack.

The rear end of the same Vanilla had a fairly modern graphical touch to the rear fender for such a classic bike. This was probably my favorite bike of the show.