1967 Velorex 16/350! Fewer than ten in the USA?
1967 Velorex 350 / 16
Three wheeled chain drive 350cc car from Czechoslovakia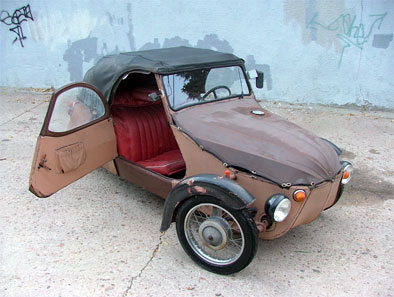 How many opportunities do you have to own a vehicle that your friends have never seen in their lives - probably not even in magazines! As best as i can tell from doing google searches, checking club listings, and calling Velorex USA, there are only a handfull in the US.
This was my Velorex, but i sold it to Peter Wing, of Wing's Castle, and it now lives in the Hudson Valley of New York!
Velorexus.com seems to be a guy that has one in the US
The Bruce Weiner Microcar Museum in Georgia has one, and a damned nice collection of other vehicles.
A guy named Charles Bair has a three wheeler, and one of the four wheelers i've never seen!
He also told me that the owner of Blue Moon cycle BMW in Norcross Georgia has imported 6 todate.
The Packard Museum in Warren, Ohio has a nicely restored 1969 Oskar. I don't know whether it's a permanent part of the exhibit.
Does anyone know of any more?
I've now sold this one, but received another call shortly before selling it. If anyone has a Velorex for sale, please contact me (contact info at the bottom of the page) and i will put you in touch with the potential buyer.
It has a tubular steel frame covered in a leather looking canvas body. The floor is wood plank or plywood!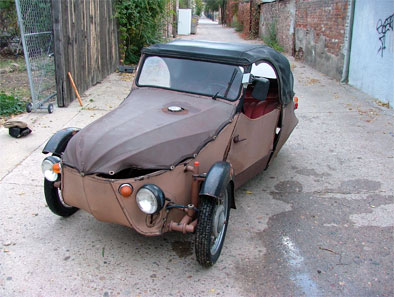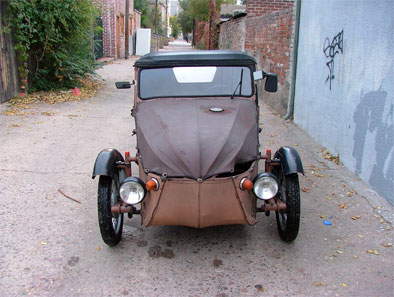 I bought it in Germany from someone who had imported two from the Czech Republic. I drove it in Germany for a while, but never more than a dozen miles at a time, and probably 50 miles total. I brought it to the US with me, titled it, then never got around to registering it. I kept it stored indoors for the first years, then had to move, and it's been outdoors for the last two years. I kept wanting to get around to fixing it and driving around, but have been too busy. I don't think i'll get to it, so it's time to sell it. It's legally imported and street legal, titled as a motorcycle with a Virginia title, and has never been registered in the US.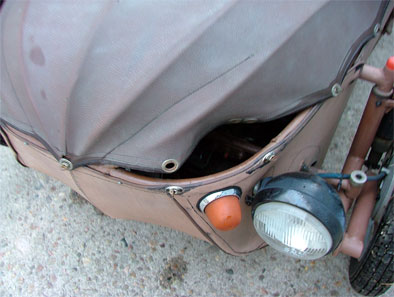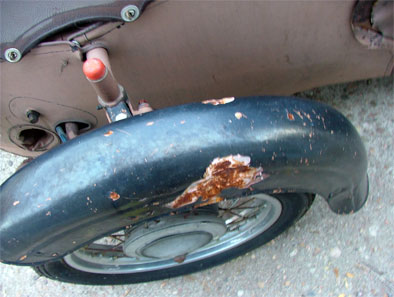 The fabric has shrunk in some spots so that it's very difficult to get the snap closures to close.
The fenders have some rust and some of what looks like bondo behind a couple of places where the paint is flaking.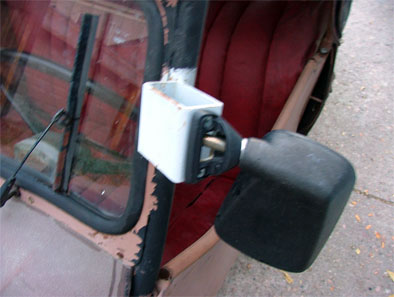 The velorex originally had only one side-view mirror, but the prior owner took the mirror off and had it welded on the passenger side, then welded some rectangular cross-section steel to the driver's side and attached a ball-joint mirror.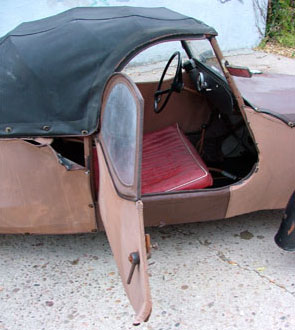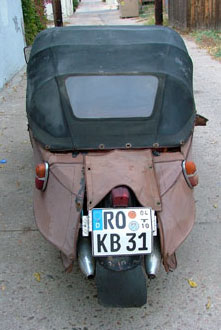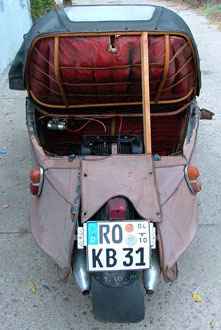 It has suicide doors as you can see in the pics, which are universally cool! The top folds up in the back to expose the engine. It does NOT fold down like a convertible, despite the fact that it looks like it does. (Actually, i'm not so sure anymore. I recently saw some pics of one with the top down. Perhaps they modified theirs to drop, perhaps someone modified mine not to, or perhaps i simply haven't been able to figure it out...)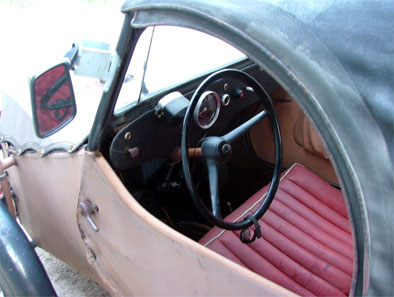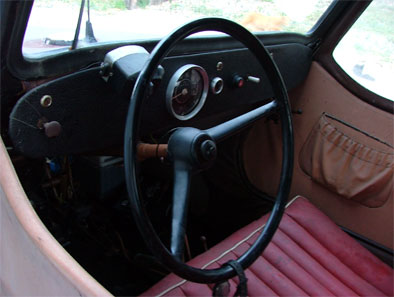 You do not want to take road trips in this car. This is for putting around town and showing off. You'll get more looks in this velorex than in a quarter million dollar car!
It can hold two people, and they'd better not be McDonald's regulars. The brakes pull hard to one side and the thing is scary to drive over 45mph, especially on a curvy downhill road, trust me.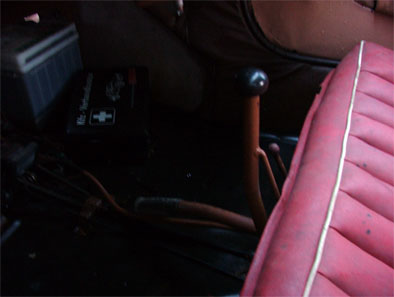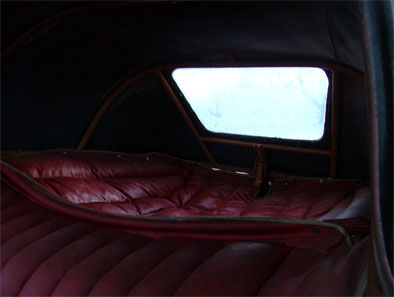 It has an electric start and a pull lever that works like a cord or kick start too!
All gears in reverse too!
Probably the most amazing thing about this car is the reverse set-up. Unlike regular engines, this engine is timed to exactly top dead center. This enables the reverse gears (yes, reverse gears plural!) There is no reverse gear, but if you turn the key off, push the key in, then re-start the car, you are starting it with the polarity of the starter reversed, causing the engine to run in the opposite direction, making all of the standard gears now reverse!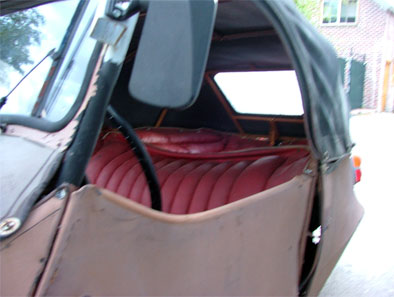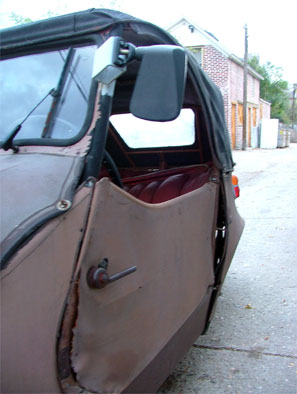 The seat upholstery has about a six inch tear on a seam on the driver's seat. The windshield is glass and side windows are plexi. The plexiglas windows are a little fogged looking, one door window has a crack. The drivers side door frame is slightly bent but closes properly.
Behind the doors, you can see a gap for air intake.
The windows don't roll down: You have to open the door and take the window off it's mounting pin and tabs, then stow it in the back, and re-close the door.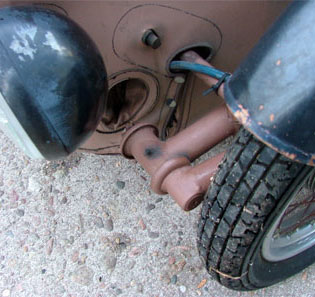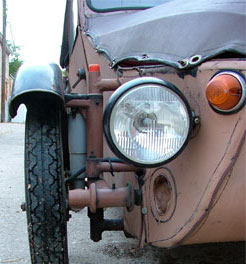 You can see indents in the fabric body in the front to allow the knuckle joint to pivot farther inboard.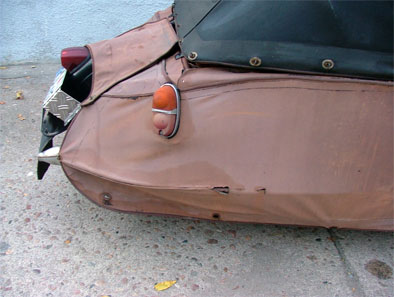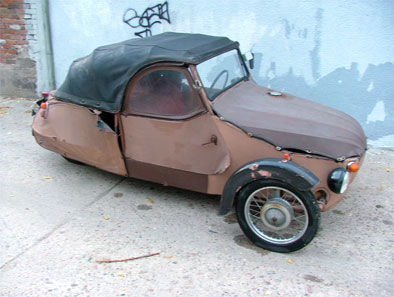 There are some tears in the fabric and the base of the passenger door has become unstitched.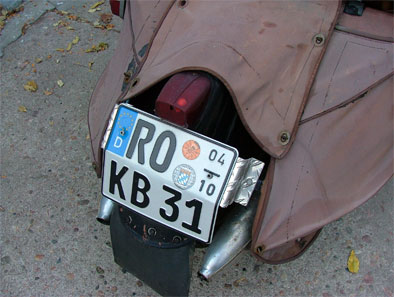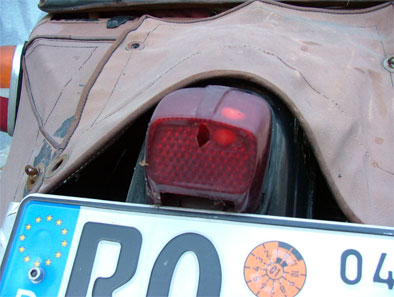 The prior owner made a license plate mount out of diamond plate that looks far from original. I don't know whether the original had a license plate holder or what it looked like. There is a break in the taillight lens visible in the picture.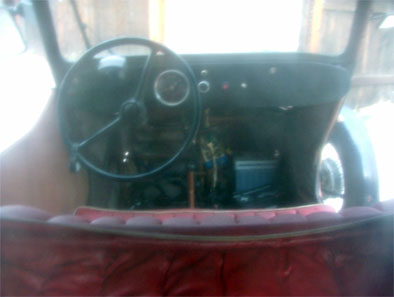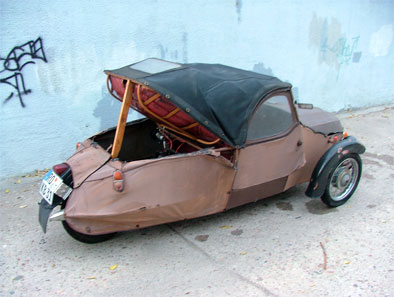 Ran when i drove it last five years ago, and has been sitting ever since. The tank needs to be drained, the plugs changes, the carb cleaned.
I have addresses and info for suppliers in Germany for new fenders and body canvas. There are Velorex clubs in i think Hungary and the Czech Republik.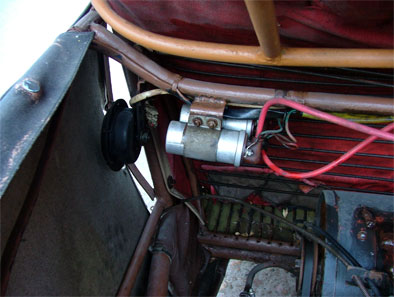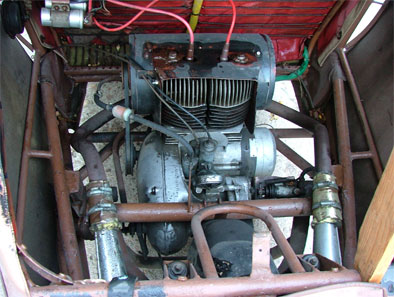 It has a 2 cylinder (parallel twin) 2-stroke 350cc Jawa/CZ engine. Since Jawa/CZ motorcycles were imported into the US, parts are available for the engine, although not as easily as for your 2002 Honda.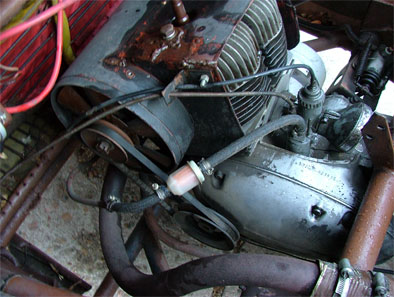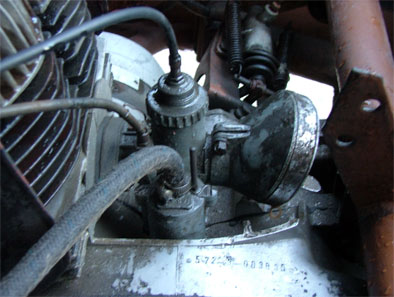 The air-cooled engine has a belt-powered fan inside a shroud. The carb has in intake with a rotating shroud to adjust airflow into the carb.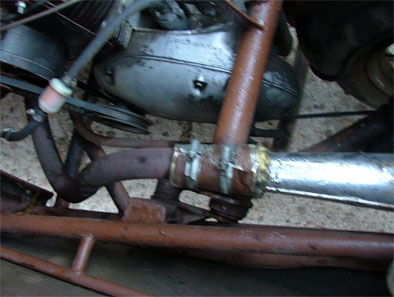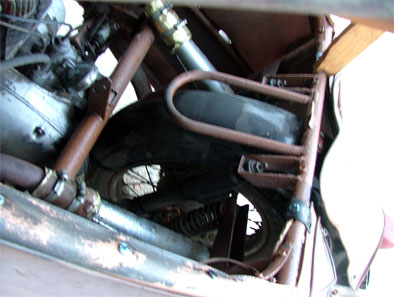 The gas pedal return spring is jerry-rigged, the brake pedals return spring is missing.
Oil is mixed with the gas in the tank, there isn't a separate oil injector.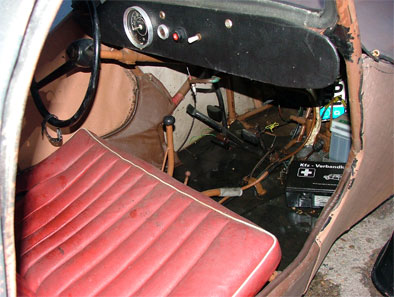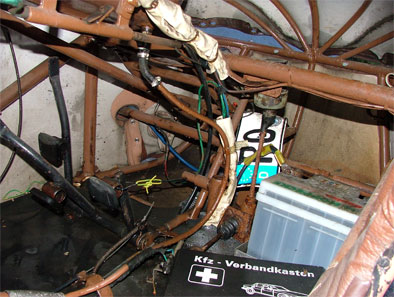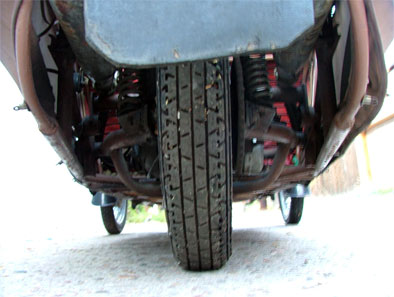 "Velorex is a microcar built in Czechoslovakia from 1942 to 1973, based on Jawa motorcycle running gear. It was designed and built by two brothers: Frantisek and Mojmir Stransky, bicycle mechanics in their repair shop in Ceska Trebova (now in Czech Republic).
"After the initial success, the business was nationalized (as in: taken over by communist government) and production continued in Hradec Kralove. Approximately 16,000 units were built during 31 years. Half of the production was exported to the comrades in other parts of the communist paradise: Poland and Hungary, mostly.
"Velorex was a sensible alternative to a motorcycle and gave the privileged few a taste of comfort, usually afforded only by a real car."
Taken from: www.velorexus.com/page6.html
Buy It
I listed it for $3500, but have no idea what a fair price would be. If you would like to contact me, try my email .
Links
velorex.com (the czech velorex club) has some great old pictures of Velorexes back in the day.
A Czech parts supplier.
article on the velorex (in Czech)
pics of a newer velorex note that the fabric is glossy and loose, unlike mine. I don't know if this one has an aftermarket canvas body.